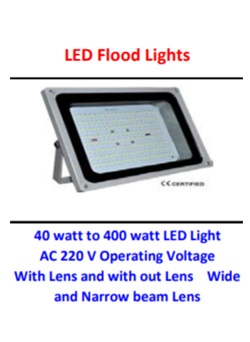 Reliable Manufacturer & Suppliers of LED Flood Light in Hyderabad Telangana India
We, Silicon Grand were established in the year 2005, are offering a wide range of lighting products such asLed Flood Lights in Hyderabad, Flood Light, Led Flood Light, Solar Flood Lights, Solar Security Light, Outdoor Flood Lights, Led Floodlight, Outdoor Led Flood Lights, Rechargeable Flood Light, Led Security Light, Led Flood Light Bulbs, Solar Powered Flood Lights, Solar Powered Security Lights, Security Light Bulbs, Portable Flood Light etc in Hyderabad Telangana India.
Our product range has found huge acceptance in the market for its quality and new-age advanced features. As a Manufacturer and Supplier of lighting products, we understand how much revolution these product line has gone through in last 10 to 15 years. Keeping that in mind, we have consistently kept our product range relevant to the end-clients preferences. LED Flood Light are available for our customer at reasonable prices.
We have satisfied customer in Hyderabad, Telangana, Andhra Pradesh Arunachal Pradesh, Assam, Bihar, Chhattisgarh, , Gujarat, Haryana, Goa Himachal Pradesh, Jharkhand, Karnataka, Kerala, Madhya Pradesh, Maharashtra, Manipur, Meghalaya, Mizoram, Nagaland, Odisha, Punjab, Rajasthan, Sikkim, Tamil Nadu, Tripura, Uttar Pradesh, Uttarakhand, West Bengal, all over India.